History
Dr. Frank Speizer began the Nurses' Health Study (NHS) in 1976 with the hope of learning more about the potential long-term risk factors for cancer and cardiovascular disease in women. At the time, the vast majority of health studies only involved men, creating a significant research disparity. The study was funded by the National Institutes of Health. Letters were sent out to 170,000 nurses and a total of 122,000 nurses responded. Those 122,000 nurses formed the original Nurses' Health Study. Ninety percent of them still participate. Read more about NHS history.
Nurses' Health Study II (NHS II) began in 1989 by Dr. Walter Willett and colleagues, with funding from the National Institutes of Health. The purpose of NHS II was to study diet and lifestyle risk factors in women who were younger than NHS participants. Nurses between the ages of 25 and 42 were recruited (the youngest nurses in NHS at the time were 43). Hoping to match the number of nurses enrolled in NHS, researchers sent an invitation to more than half-a-million female nurses in the most populous states in the US, and 116,686 nurses joined. Many members of NHS II were daughters or nieces of NHS participants. Ninety percent of NHS II nurses still participate.
The research evolved to address a broad range of factors, such as exposure to silicone implants, air pollution, shift work, and the built environment. The addition of biological samples expanded the study to biomarkers of such exposures, including hormones. Read more about NHS II history.
View selected recent publications from the first two Nurses' Health Studies.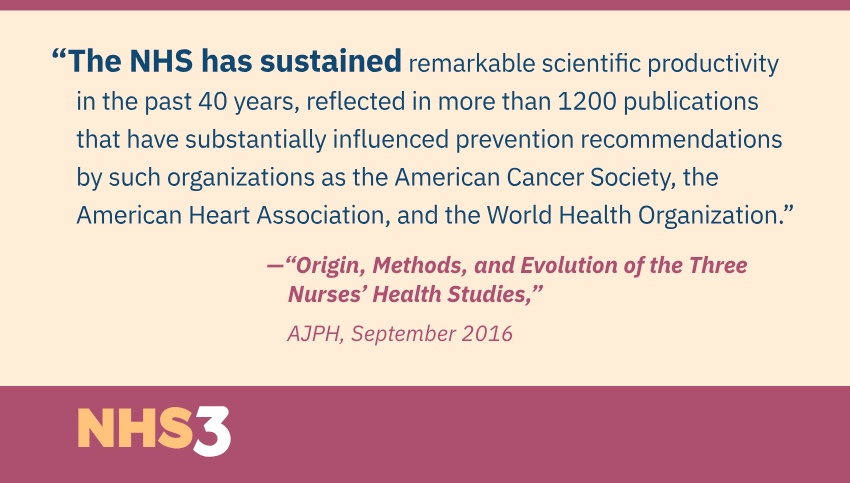 In 1996 and 2004, participants in NHS II were invited to enroll their children between the ages of 9 and 14 in a companion long-term study to investigate factors that influence weight change. This study is called Growing Up Today Study (GUTS), and its scope has expanded to include substance use, eating disorders, gender, sexual orientation, genetics, and environmental factors. Combined, the Growing Up Today Study and the Nurses' Health Study can be considered a cross-generational super-study, leading to new insights and landmark findings in the field of public health research.
In 2010, Drs. Walter Willett, Janet Rich-Edwards, Stacey Missmer, and Jorge Chavarro started Nurses' Health Study 3 (NHS3), in collaboration with investigators at the Channing Division of Network Medicine and the Harvard T.H. Chan School of Public Health. NHS3 continues to reflect the study's commitment to addressing timely public health issues, as well as topics directly related to nurses' health, like shift work, chemical exposures, and fertility.
NHS3 aims to represent nurses' diverse backgrounds, and participation has expanded to include female, male, and Canadian nurses and nursing students.